Control technology for integrated fire alarm operation control systems
The AGNOSYS Series F helps to provide you with a functioning and standard-compliant fire safety system, which customers are sure to purchase. With the Series F all components for preventive fire protection of your building services system will be easily and comfortably connected and managed.
Amongst the features are:
Smoke & heat extraction systems
Pressure ventilation systems
Underground car park smoke extractors
Ventilation systems with fire dampers
and much more…
Comprehensive support
From the planning phase right through to the active operation of the building, we support you in the execution of your project and make sure that you have time for your core issues. We are at your disposal for questions regarding dimensioning and conceptual design, to help you with the implementation of normative standards in control-relevant actions and thus provide the basis for a cost-effective operation after completion of the project. Furthermore, AGNOSYS is your reliable partner when it comes to maintaining and servicing your systems in operation.
In addition, upon request, we offer workshops to ensure a transfer of know-how, through which you can strengthen and extend your knowledge in the area of fire alarm operation control systems.
OEM solutions
Would you also like to equip your products and systems with AGNOSYS' all-inclusive know-how and innovative technologies? Your operators, actuators and systems can be raised to a new technological level with the help of our development team.
It is our pleasure to create a tailor-made, individual solution for your existing standardised products. For this purpose, please get in touch.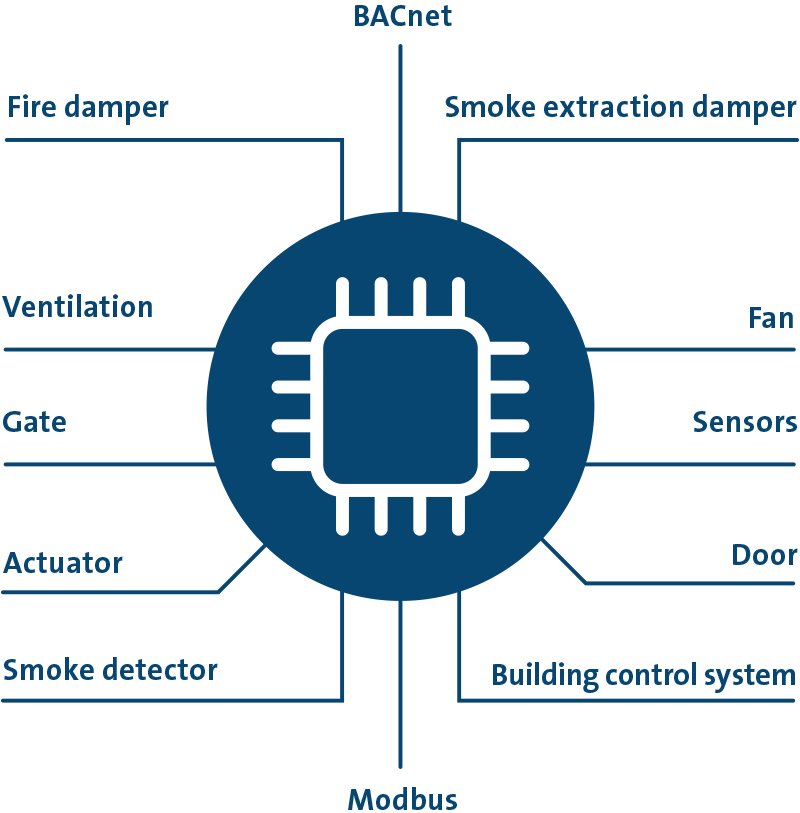 Green-building and conservation of resources
Through innovative interconnection of the individual components and systems, we optimise the life cycle assessment of your building, both radically and sustainably. In this way, the ecological footprint is not only minimised during planning and construction, but also the life cycle assessment over the entire life cycle of the building is enhanced.
+